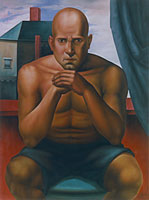 Color, details meld in art
Barret hosts Juried Exhibit
By Nicole Edwards

It's not quite clear what the dark circle centered in Susan D'Amato's charcoal drawing is at first glance.
The drawing even appears to be a black-and-white photograph, but in fact ''Descent'' is actually a belly button.
It received first place among the photography, paintings, mixed media work and sculpture in the current exhibit at The Barrett Art Center. ''Directions '02'' is the center's 18th annual national juried contemporary fine art show, on display now through Nov. 23. ''Very Short Stories,'' a photographic collage by Marcy B. Freedman, and video sculpture by Gene Panczenko are also on view.
The art center received 918 slides from artists from as far away as Seattle, Wa. and as close as Poughkeepsie for ''New Directions.'' Joan Young, assistant curator at the Solomon R. Guggenheim Museum of Art in Manhattan, was asked to jury the show and selected 68 entries.
''(I was) not looking for a theme,'' Young said. ''I was trying to make a selection from the range type artwork that was submitted, really trying to represent the whole submission, and from that making the decision of quality.''
Variety of work
Domenico Petrillo of Hopewell Junction got second place for his oil painting ''John Passineau.'' A cotton on fabric textile piece titled ''Wax On/Wax Off'' by Marci Rae McDade took third.
David Christopher Mahoney, a Poughkeepsie resident and poet, was drawn to the variety of color, form and function in the art.''I was just really blown away from piece to piece,'' said Mahoney, who took time to turn movable painted wooden boards of ''Rembrandt and Me'' by Nestor Madalengoitia. The boards create an image of the Poughkeepsie artist on one side and the renown artist Rembrandt on the other.
''There's awesome diversity,'' Mahoney said.He was drawn to details in paintings like ''Blue Room,'' while he made comparisons to the farm couple with the pitch fork in ''American Gothic'' to a painting of a man wearing an intense facial expression in Emil Bakalli's ''My Deceptive Journey.''
Last year's exhibit was judged by Charlotta Kotik, curator and chair of the department of contemporary art at the Brooklyn Museum.''
We've managed to have some pretty reputable curators,'' said Laurie Strange, gallery coordinator at Barrett. ''For a community arts center, this is wonderful.''
IF YOU GO
ART EXHIBIT
What -- "New Directions '02," 18th annual National Juried Contemporary Fine Art Exhibition.
When -- Now through Nov. 23. Regular hours, Tuesday-Friday, 10 a.m.-5 p.m. Saturday, 10 a.m.-3 p.m.
Where -- The Barrett Art Center, 55 Noxon St., downtown Poughkeepsie.
Admission -- Free.
Information -- Call (845) 471-2550 or visit www.barrettartcenter.org.
COURTESY PHOTO: - "My Deceptive Journey," an oil painting by Emil Bakalli is in the group show at Barrett – goes under the picture.